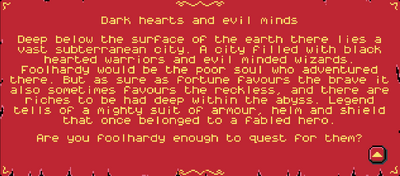 Dungeon Overview
Edit
Loot Sources: Barrels, Chests, Shield Racks, Dual Sword Racks.
Mobs: Deep Dwarves, Swart Elves, Bats, Centipedes, Spiders, Cobras, Floating Eyes, Spawns of Yoth, Swarders, Hill Dwarves, Mantises, and Cthulets.
Full list of mobs and mob attributes found here (Google Spreadsheet)
Ally: Hill Dwarf* Royal Guard, Hill Dwarf* King, Cthulet* Albino.
Dungeon Progression
Edit
Note: Swart Elves are found in all 5 levels, and Deep Dwarves are found in levels 1-3. Both types of mobs have increasing attributes as you progress through the dungeon levels.
Level 1: Bats, and Centipedes.
Level 2: Cobras, Spiders, and Medusa Witch.
Level 3: Spiders, Spawn of Yoth, Floating Eyes, Cobras, Swarders, Hill Dwarf* Royal Guards, Hill Dwarf* King, and Cthulet* Albino.
Level 4: Spawn of Yoth, Mantises, and Cobras.
Level 5: Same as level 4, and Cthulets.